I met David via a LinkedIn Photographer's forum and asked him if he'd mind being interviewed.  Below are his answers.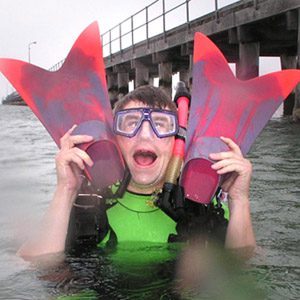 What is your name?
David Bryant
What is your business name?
Seapics Photography
How long have you been a photographer?
20 years
Please tell us how you got started
I got started after I finished my apprenticeship as a Compositor. I photographed my first Wedding when I was asked by diving friends if I would shoot their wedding day, so I borrowed a Nikon F60 with 20mm lens and pop-up flash and shot the whole day. It was so successful I took up wedding photography and 10 years later I also started photographing Real Estate, Wildlife, etc. I also started scuba diving in 1989 and it was natural to want to take underwater photos, so I bought my first underwater camera, a Hanimex Amphibian, then a Nikonos 2, then a Nikonos 3, twin strobes, wide angle lens and lots more.  In 2002 I bought the Olympus 5050 and housing and all my UW shots on my website have been photographed with this over the past 10 years.
 Why have you chosen this particular type of photography?
I chose this particular style of photography because I like to show my family (initially) and nowadays the World, what I capture when I dive. There's just so much lovely stuff under the sea and people are always amazed at what lies beneath the waves!
Do you have any favourite shoots you've done? Or perhaps you want to share on one that was a disaster?
I've done many shoots but most were for fun – I almost photographed an Underwater wedding at the Melbourne Aquarium but that was called off, bugger!  Most of what I do with my photography is for fun but I do make a living doing  Real Estate, Weddings and other things….  none of these I would consider as 'memorable' though!
Do you have any hints or tips you'd like to offer to budding photographers for your field?
Hint and/or tips…..  Just get out there and push that trigger, and don't be afraid to point the camera UP occasionally – most of us look at the world horizontally and very rarely ever look up, especially under water! – Also shoot using Natural Light…  just because we have a flash doesn't mean we have to use it every shot!
What is your web address?
Website:  seapics.com.au.  My website is linked to a gallery of 1,000+ images on Flickr, which can also be accessed just by typing in seapicsdavebryant once you are on Flickr.