Regular readers would have seen my recent posts about Christmas cards I was designing for sale at local markets.  And they have begun selling so if anyone is interested in buying a pack or two, or even individual cards, please do contact me to place your order.  $25 for a pack of 10, or $3 per card, plus postage.
However, what if you want to use your own photos and organise professionally printed cards, but you don't want to go to the trouble of bulk printing cards.  I have the answer for you and it's what I use to send out cards to my own Christmas list, birthday list and anyone else through the year. And what is it called? Just that – Send Out Cards.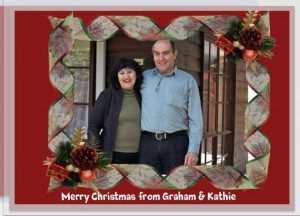 I discovered this system when looking for something where I could get my own cards printed – just one at a time if I wanted to, or many cards, at low cost.  Send Out Cards is the perfect answer.  You can upload your own photos, or drawings and logos, write your personal message, add the person or persons you want to send to and click 'send'.  From there Send Out Cards prints your card, addresses the envelope, adds the stamp and posts it for you.  And you can even have your own handwriting uploaded to the system.  The cost is approx $1.60AUD printed and posted. For those in the US it's $1.47.  This is for a 2 panel greeting card. Postcards are less and 3 panel cards a little more.
You can watch a video about it here, or simply send a free card right now to try the system out.  It's all on me!  And if you like what you see you can set up your own account to do your own cards.
Christmas is not that far away so now's the time to act and either purchase your Christmas cards today or set up your own account to create your own cards.  Very easy system to use and you're not limited by the time the 'shops and post office' are open in order to do this.