Well, it's almost 3 years since I bought this camera. It's my favourite camera, my every day camera, lightweight and easy to use, it's always at my hip – even when I'm out in the garden here at home.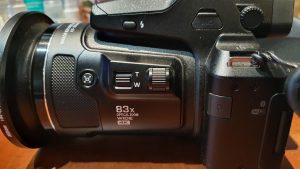 When I first got the camera I quickly realised I didn't like the neck strap – I replaced it with a shoulder strap from Peak Design. Because it is so lightweight (just over 1kg) it took me awhile to get used to holding it still enough when the zoom was extended – it didn't have the same weight of my heavier D7100 and 200-500mm lens. I decided to use only that camera and no other in the first month or so of getting it, so I didn't resort to what I was used to, but rather developed new habits. So glad I did. I've been so happy with the results.
My pet loves: the weight, the zoomability, easy to pack into a small backpack, although it's mostly at my hip. Definitely a worthwhile travel camera and with a range of 4.3-357mm (a factor of 5.6 making it effectively 24-2000mm) it's probably all you need when needing to travel light.
My pet hates: the batteries only last for 200-300 images (depending on whether it's Japanese or Chinese made) – I have 3 batteries so I always carry charged up spares with me when out and about, focus isn't quick so if you're focusing on something that is moving fast – you'll most likely lose it before you're locked onto it, and you can't enlarge the screen to view what you've just shot for a larger viewing.
I've learnt to live with my pet hates because the pet loves far outweigh them and I get shots I'm really happy with. Many birds I get close ups of, are a distance away from me – over the other side of a lake, high up in a tree, on a hill, down a pathway. If I can see it with my eyes I can zoom in on it with the camera. Sometimes even if I can't see it with my eyes but saw where it went, I can often find it with my camera – the camera doubles as my binoculars too.
Don't get me wrong – you can do action shots, especially if using Shutter Priority or Manual Mode or other settings where you can set the shutter speed. I tend to use Bird mode most of the time, and not just for birds – just happens to be my favourite mode, but there are lots of other modes you can use too. And I haven't even mentioned the video function of this camera! Totally love it and so easy to use – just focus on what you want to video and press the red button and then press it again when you wish to finish videoing. Challenge is holding the camera still enough so leaning on a post or using a tripod is probably the best thing to do.
The images below were taken on a trip along the Great Ocean Road earlier this year and shows a variety of things I took with the P950. There are also a few I've taken at the Western Treatment Plant over the past year – one of my favourite birding places to go. So yes, I highly recommend this camera and wonder if Nikon should be paying me a commission 😀 I reckon I've probably sold quite a few copies by now!