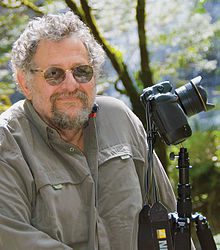 If you're in the Northern Territory, or can get there, you're in for a treat!  Steve Parish will be presenting there in July, with a one day workshop, a 5 day photography adventure at Kakadu National Park and a free evening hearing him talk about his 50 years of photography.
I'm sure you've heard of him if you live in Australia and, in fact, if you are in a post office anytime, you're sure to see his images on postcards, picture books, children's books, calendars, etc.  Steve has been one of the photographers I've watched and wanted to emulate over the years.
I had the privilege of doing a two day workshop last November, where Steve Parish was one of the three presenters sharing their time and experiences with a bunch of very keen photographers. Some of us have kept in touch since that time, sharing on what we've been doing.  I learnt so many hints and tips.  Some of you might remember this post 'Shooting Birds' which I wrote after attending the workshop.  My family bought me this as a birthday gift and I really enjoyed my time of learning.
You can find all the details of what Steve is doing in Northern Territory in July here.  Below is one of the early images I remember seeing of Steve.
Steve Parish in Kakadu in the 1980s.
Photo: Les Gilbert.

From The Age
.