If you're a new Guru you're probably wondering how to run a challenge at GuruShots. A good place to start looking is at the FAQ section at GuruShots, the section on being a Guru is a good start. While they give guidelines on Challenge Cover Photos the reality is if you're bidding for a challenge, you won't get time to edit an image and upload to make it work for the challenge you want to bid on – too many other Gurus trying to bid too. So you just have to hope that an image you already have uploaded is suitable – one of the reasons why I don't remove images from my Portfolio at all. I just leave them there, although I know some members remove theirs and only leave a small number up. I, personally, don't see the point.
Once you are successful and you've been told a challenge has been accepted, make sure you're around for the length of the challenge. Usually over a 48 hour period, but generally starts on day 1 in the morning and finishes on day 3 in the morning, sometimes starts in the evening and finishes in the evening. It can vary.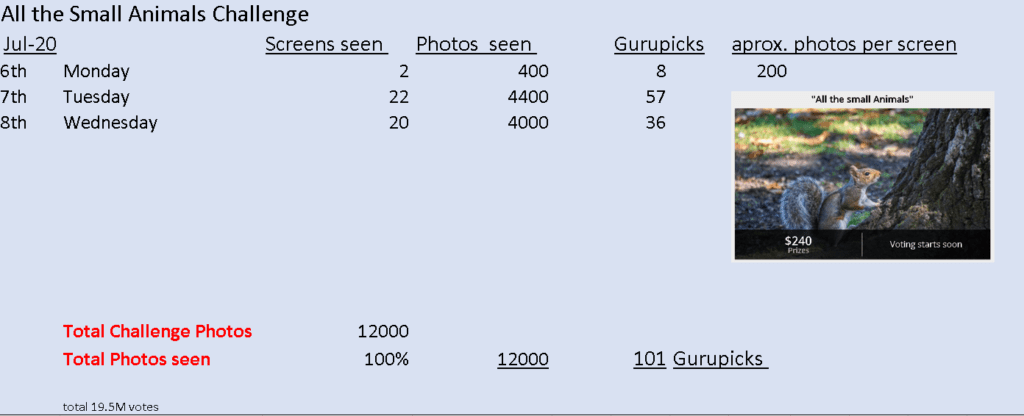 I've made it a habit to start doing Guru Picks about 3 or 4 hours after voting has opened and do several but not a lot. Many images aren't uploaded till later in the challenge so you don't want to fill your picks up on the first day. The aim is to do around 100 GPs. I've done occasionally less and occasionally more. I keep a spreadsheet that monitors what I've seen (around 200 images presented per screen as you can see above) and how many picks I've done each day, spread out throughout the day. I often go into the challenge about 3 times each day. Happy to share the spreadsheet – which was shared with me 🙂
You can choose your top pick at any time during the challenge and can change your mind up to around an hour before the finish but if you know you're not going to be around for the finish, then make sure you do choose it well before. It will be obvious how to do this when you're in that mode.
DON'T do your picks via your phone or iPad. If you forget that you're doing Guru Picks then any image you might accidentally touch will end up getting a GP. I always do mine via computer. I also use Tineye to check to see if any images have been stolen (and yes, that does happen now and then). Just take a snapshot and paste to Tineye and it will let you know. If nothing comes up, or only a small number then it's pretty safe to say it's not stolen. But if there are LOTS of copies showing up, I will 'like' the image by clicking on the heart and then view from my profile in another tab to see who has taken the photo. If the name matches what I see on the Tineye links I know it's the owner. If there are too many references with lots of names I just don't pick it at all – too hard to tell. But if it becomes obvious it is a stolen photo then I will share the URL with GuruShots and report the image as stolen. Thankfully, I have only had to do that twice, so far. To date, I've run 8 challenges, 7 I've bid for, and 1 of my own creation. And thoroughly enjoy the process every single time. I find it a privilege to be in that role.
For the Gurus out there – if you're in a Team, be aware that your Team Member images won't be shown to you to prevent any unscrupulous voting or Guru Picks happening. Although I have heard that some Gurus have been doing that wrong thing and favouring friends and families with picks and Top Guru Picks. I find this sad as it puts a shadow on the rest of us doing the right thing. But I would like to think that a large percentage of Gurus are doing the right thing. Enjoy!