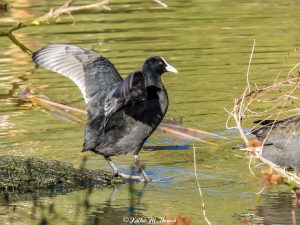 Many who are out there every day with their cameras already know this, but probably others don't. That photography, particularly nature photography, is good for the mind, the body and the soul. It connects you with nature, takes you away from whatever may be troubling you and allows you to just take in your surroundings and be really mindful of the present moment.
I've been doing serious nature photography for many years now and have my doctor to thank for it. You see, I'd been running an online business via my computer for many years (not photography related) and rarely went out for walks. I knew I had to take regular breaks and thought walking around my house, doing housework would help but it didn't. My doctor told me I had to go out a minimum 3 days a week, in the fresh air, get some vitamin D and walk for at least 20 minutes. I actually found walking for that particular purpose boring and I would constantly check my watch to see if it was time to turn back and go home yet.
Then, one day, it occurred to me perhaps I should take my camera with me. That was a turning point. 20 minutes became an hour or more, and 3 days became 5-6 days a week, sometimes 7. I began to notice nature around me, the shape of trees and bushes, the changing colours through the seasons, the movement of birds and so on. Before I knew it I was becoming addicted to walking, always with my camera with me, and my photography grew in leaps and bounds. I became much better at it.
Over time I began to realise that going out regularly freed my mind up from things that were bothering me in my business or daily life – it gave me permission to take time out, and in doing so, often my mind would work on whatever it was in the background and I'd come back refreshed, sometimes with the problem solved, and often with renewed vigour to get my work done. Walking wasn't just good for my physical health and well being, it was good for my mental health too, well the photography in particular is good for that. It sits well with my soul, being immersed in nature, in the world around me. Other benefits? I sleep well and I've also lost weight over time too, without having to do fast diets. I can actually walk for many kilometres without getting too tired. I enjoy walking very much.
I've also learnt a lot about the beautiful Australian birdlife in our region, and in other areas too. I get excited seeing a 'new' bird, hearing a 'new' call, becoming familiar with the sound of a particular flap of wings knowing which bird it is before I see it. My mind keeps active, which must be a good thing as you grow older too.
I also meet many locals when I'm out and about at some of my favourite parks and lakes here in the Dandenong Ranges. It seems many locals know who I am through the sharing of my photos online and I love stopping and chatting with them about different birds or life in general.
If you are taking up photography, or been doing it for awhile and have been challenged with mental health issues, then this Facebook group, Shooting the Black Dog may well be of interest to you. If you live here in the hills and would love to learn about photography then my local club, the Hills Photographic Society is very welcoming of new members, no matter where you are in your photography journey. If you like to hang out at Birdsland Reserve, then this Facebook group may well be the group you need.
And I'm always up for a chat too. Love to share with others, encourage them, support where I can. I've been blessed by others being there for me when I have had the need and I like to do the same for others.
What has been your journey with photography? I'd love to hear about it in the comments below.