We have a number of new readers amongst us so thought I'd promote this again.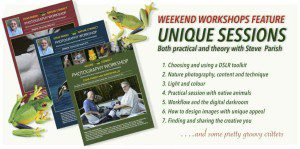 On Saturday/Sunday 20-21 September, Steve Parish is holding a nature photography workshop at Belgrave Heights Convention Centre. This property has acreage and there will be animals and reptiles brought in for the workshop. Day 1 will be a practical day of taking photos under Steve's guidance and Day 2 will be about how to use those photos and what to do with them.
There are still some places available and I would love to see some of you there.
Full details and bookings can be made at http://www.steveparish-natureconnect.com.au/events/victoria-nature-photography-workshop/.
There is an option to pay in part payments but time is getting short to take advantage of that. If you need to ask me questions privately feel free to email me direct.
Steve doesn't come to Victoria often for events like this so this is a great opportunity. I attended the last one (quite different to this one) 3 years ago and it was given to me as a birthday present by my family. With Christmas coming up it could also be an early Christmas present for some.
Best regards,
Kathie Thomas