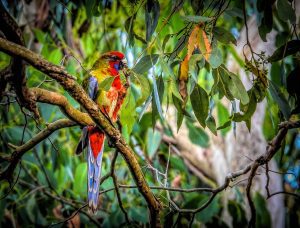 I often get told that people miss seeing the things I see, or they're not lucky enough to see these things. I thought I'd share on how I manage to find all the shots I do, and the subjects too.
Movement
As I'm often walking along in parks, reserves, even my own property, I don't walk fast. I'm not talking to anyone, and I'm not focused on something else. I'm on alert for all sorts of things. Movement, being one of them. A leaf bouncing up and down when it's fairly still all round, or a flower moving, or something else moving. Branches moving on a tree. This can mean that there was a bird, a butterfly, bee or something else that was on that thing, or brushed past it and it makes me look all around nearby.
Sound
This is probably the biggest telltale. A bird call, flap of wings, a hum or buzz, a rustle of leaves or grass, or a twig shifting on the ground. Sound is probably your biggest ally when looking for things to photograph in your surroundings.
Change of Colour
This is also a telltale sign for you. You're looking at green grass but there's a colour that's different amongst it. Or in a tree a slight flash of colour that doesn't actually fit into the tree's colour scheme. Looking amongst brown branches and leaves and seeing another colour there. Perhaps there's lots of dark colour but something light in the middle, or the other way round. Being aware of things around you like this helps a great deal.
Finally, don't just keep looking ahead of you – look to the sides, look behind you, look up, look down. Be aware of all that's around you and become a part of your environment. And in saying that, the colours you wear when out doing nature photography can help too. If you wear colour that blends in (earthy colours) that helps a great deal too as you blend in better. The more you do, the more you'll see and hear. Enjoy!